Pairing Wine and Winter Squash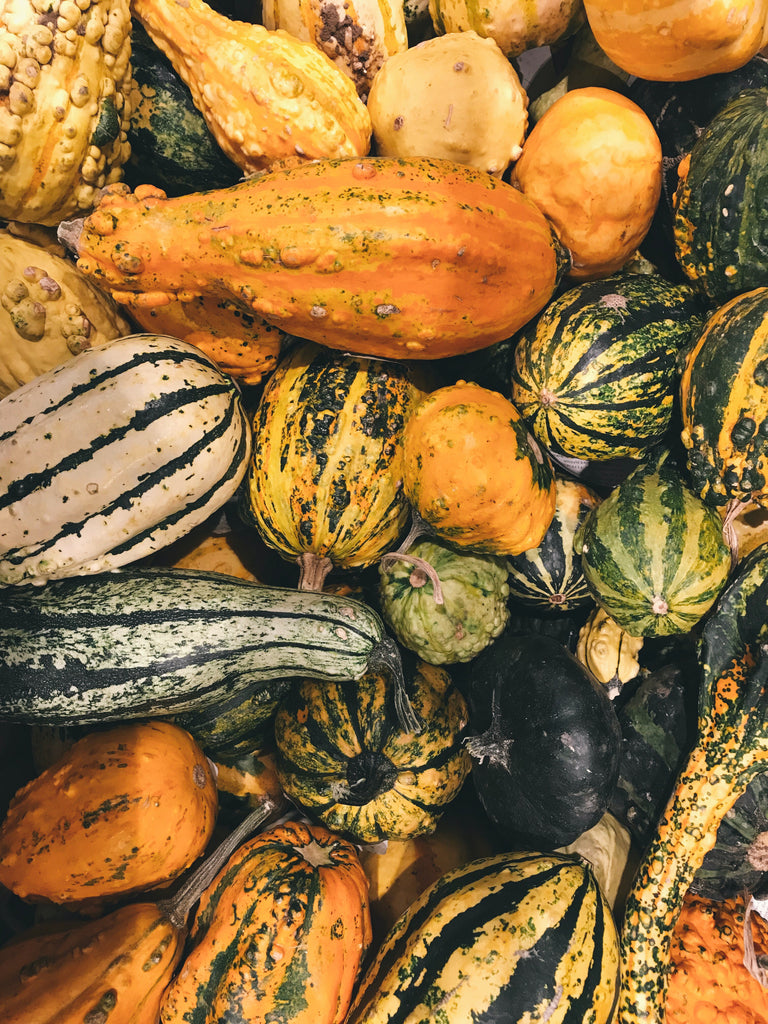 It's soup/stew season which means it's SQUASH SEASON. Squash are one of the most popular ingredients in cold weather recipes, but it's a pretty big category. What separates butternut squash from acorn? Or spaghetti? Or yellow? Use this guide to find the perfect variety for your dinner tonight!
Butternut Squash
Butternut squash is an extremely popular ingredient in harvest cooking and for good reason—this squash is great for roasting, and it can add a pleasant sweetness to your fall dinners, similar to the effect you get from sweet potatoes. This squash is easy to peel, which is a huge plus for if you're looking to chop it up for a stew or side, and it's extremely accessible in large grocery chains as well as smaller markets. 
I like this squash cubed and roasted in the oven with herbs like sage and thyme as a side to roasted pork chops. This is also my favorite version to puree into soup or make into vegan autumn steaks on the grill. Use this squash in any savory or sweet dish this fall.
Butternut squash has a warm nuttiness that lends itself beautifully to wines across the world. The sweet richness of this squash is particularly well suited for complementing heavily oaked Chardonnay from California or France. (Not a Chardonnay fan? Try a Viogner instead!) If you're a red drinker, try pairing this squash with a dry Italian Nebbiolo. 
Acorn Squash
Acorn squash is characterized by its extremely savory and nutty flavor when cooked. It is a deep forest green that is streaked with a bright yellow-orange making it a great choice if you're making a meal to impress your partner/parents/pod dinner party guests. Look for acorn squash that has just a touch of orange though—too much means it's overripe!
This squash is deal for baking and stuffing. Try roasting it then wrapping it in prosciutto or bake your squash with a vegan cornmeal and cranberry stuffing. 
Roasted acorn squash pairs similarly to the butternut variety with big Chardonnays and creamy French varietals, but it is also excellent paired with a zestier New Zealand Sauvignon Blanc. A deep, Old Vine Zinfandel is my red wine of choice for this squash!
Spaghetti Squash
Spaghetti Squash is a large type of squash that is extremely rich in fiber and super easy to cook, even for kitchen beginners. My go-to prep for this gourd is to slice it down the middle, scoop out the seeds, drizzle the inside with oil and roast it face-down until roasted all the way through. Once it's cooled enough to handle, scrape the insides with a fork and load with toppings for a pasta-esque dish you don't even need a ceramic bowl for—simply enjoy it straight out of the squash itself!
I almost always treat my spaghetti squash like pasta, so I usually base my wine pairings on my toppings like I would with any traditional pasta dish. Lighter, fruitier reds like Oregon Pinot Noirs are ideal for this squash, especially if you're topping it with a garlicky red sauce. 
Pumpkin
Pumpkin is delicious and if you're a pumpkin hater, I feel bad for you. The version we're most familiar with is the sugar pumpkin, and it's great for literally everything. Pie? Delicious. Soup? Yes, yes, yes! Roasted for an entree or side? Hell yeah. Sugar pumpkins are just a little sweet, similar to butternut squash and sweet potato, so it can be treated with herbs and salt for savory dishes and brown sugar and spices for dessert. I'm especially fond of this squash in soups like pumpkin and peanut soup, or roasted into a pumpkin gratin alongside roasted chicken or eggplant and lentils.
 If you're making heavier pumpkin entrees like pumpkin risotto or ravioli, grab a zippy Albariño or a fruity, dry prosseco to cut through the richness of the sauces. Aromatic whites such as Chenin Blanc and Riesling are also excellent with pumpkin. For red drinkers, fruit-forward Italian wines like Barbera are delicious alongside the sweetness of sugar pumpkin or opt for a spicier Syrah from France or the U.S.