Shepherd's Pie with Roasted Garlic Horseradish Potatoes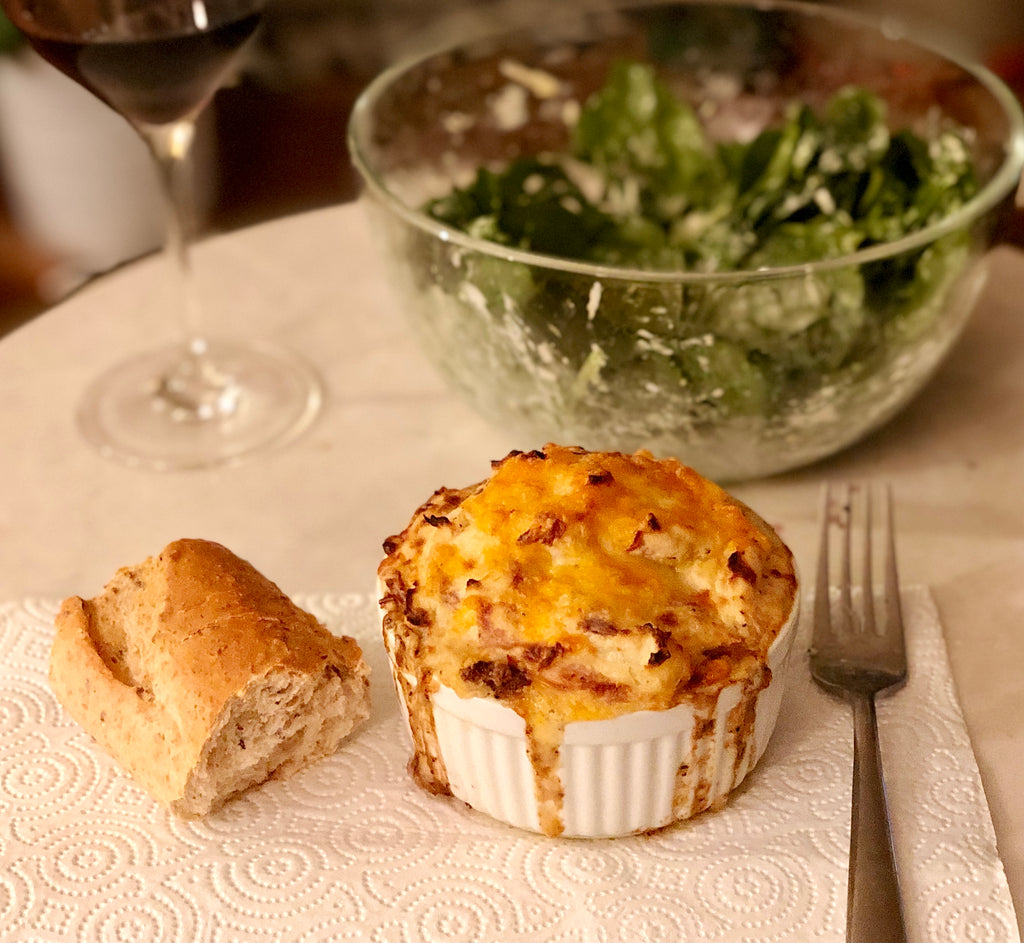 Shepherd's Pie is one of my favorite comfort foods. You really can't go wrong with rich gravy, spiced meat, vegetables, and decedent mashed potatoes. The only issue I have with this dish is that I am normally cooking for only one person, and as much as I love Shepherd's Pie, I don't want to eat it for a week straight. This version has been pared down to just two servings to make it perfect for a date night with a friend or leftovers for lunch the next day. 
Shepherd's Pie 
Servings: 2 
Prep Time: 10 minutes
Cook Time: 40 minutes
Total Time: 50 minutes
Filling:
1/2 pound Ground Lamb 
1 Bay Leaf, torn in half
2 garlic cloves, minced
1/2 Small Yellow Onion, diced 
1/4 cup Golden Corn 
6 Baby Carrots, chopped
1/4 cup Frozen Green Peas
1/2 cup Beef Broth 
1 Tsp Tomato Paste 
1 Tbsp Worcestershire Sauce 
1 Tbsp Garlic Powder 
1 Tsp Paprika 
Salt/Pepper, to taste
Potato Topping:
4 red potatoes, halved 
1/4 cup Sour Cream
1 Tsp Horseradish 
1 Tbsp Softened Unsalted Butter
5-6 Roasted Garlic Cloves
Salt/Pepper, to taste 
Preheat oven to 400º. Place garlic cloves in a shallow oven-safe dish and drizzle with olive oil. Place on the center rack and roast for 25 minute or until soft. Remove the garlic to cool, but keep the oven on. 
Set quartered potatoes in a saucepan filled with water over high heat. Boil until soft and falling apart. Set aside. 
Prepare vegetables for filling while you boil the potatoes. Mince garlic finely. Chop onions uniformly and set aside. Slice each baby carrot in half lengthways, then chop each half into 4-6 pieces each depending on the size of your carrots. 
Heat 1 tbsp olive oil over medium-high heat. Add onions, carrots, and garlic to the sizzling oil and cook until the onions are slightly translucent, about 5 minutes. 
Move vegetables to the edge of the pan and add ground lamb. Brown the meat until it is almost cooked through, about 6-7 minutes. 
Stir in tomato paste and add beef broth, 

Worcestershire sauce, bay leaf, and spices. Reduce heat to medium-low and simmer for 5 minutes, stirring occasionally. 

Add corn and peas and stir them into the filling. Cook for another minute, just until peas have defrosted. Salt and pepper to taste. 

Make potatoes: Drain water from the saucepan and add sour cream, butter, horseradish, and roasted garlic cloves to the pan. Using a large spoon, mash all ingredients together until it reaches a creamy, but still stiff, consistency. Salt and pepper to taste. 

Assemble: Fill two medium sized ramekins with filling until 3/4 full. Top liberally with potatoes. Place both filled ramekins on a baking sheet and set on the middle rack of the oven. 

Bake for 25 minutes at 400º.

Carefully remove the baking sheet from the oven. Top pies with shredded cheese (if desired) and place back in the oven. Broil for 2 minutes, or until cheese has melted and the tops of the potatoes are browned but not burnt. 
Serve with a side green salad and a glass of Italian Primitivo and enjoy!