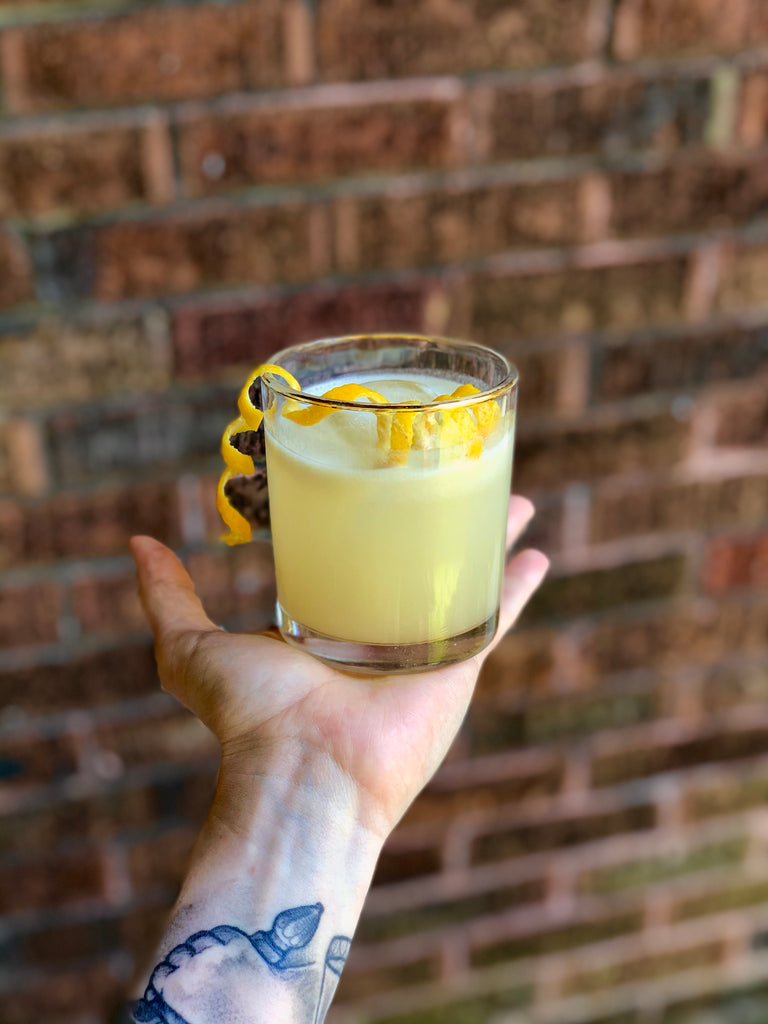 I've started something new on Instagram—a monthly challenge of letting my followers vote on random ingredients that I only have the week to develop. While I'm sure I'll eventually end up with a few flips, I'm extremely happy with what came of this month's combination! This challenge was centered around a shaken cocktail that had to include mezcal, lemon, kiwi, and coconut. 
I wanted to keep it firmly in the tropical category to fit into the theme of cocktail classes, so this cocktail follows the traditional formula for a Saturn cocktail with a few key tweaks: mezcal instead of gin, kiwi instead of passionfruit, and a toasted coconut orgeat! 
Venus Rising 
2 oz Mezcal
.75 oz Lemon Juice
.5 oz Kiwi Syrup
.25 oz Toasted Coconut Orgeat 
.25 oz Falernum 
1. Add mezcal, lemon juice, orgeat, kiwi syrup, and falernum to a cocktail shaker with ice. 
2. Shake well for about 30 seconds until well chilled. 
3. Double strain through a fine sieve into a rocks glass filled with crushed ice or over one large ice cube. 
4. Using a thin zester, carefully cut a very long strip of skin from a lemon. Curl the peel around a bar spoon to create a long tail and wind over the top of the drink. Enjoy! 
Kiwi Syrup
2 Kiwis, peeled 
.5 Cups Rich Simple Syrup
.25 Tsp Powdered Citric Acid 
1. Supreme off the hairy outside of the kiwi and quarter the remaining fruit. 
2. In a food processor, pulse the fruit until almost liquified, about one minute. 
3. Strain the puree well into a small bowl, careful to remove as much of the ground black seeds as possible. (You should have .5 cups of puree after straining.) 
4. Add citric acid to the bowl with syrup and whisk everything together. (You want to match your amount of syrup to puree. If you have less than .5 cups kiwi puree, adjust your portion of syrup accordingly.) 
5. Store chilled for up to two weeks!
Toasted Coconut Orgeat 
You can find my recipe for toasted coconut orgeat on my patreon! You are also welcome to substitute a store bough variety if you'd like!