Roasted Veggie Sandwich with Eggplant Honey Spread & Crunchy Cabbage Slaw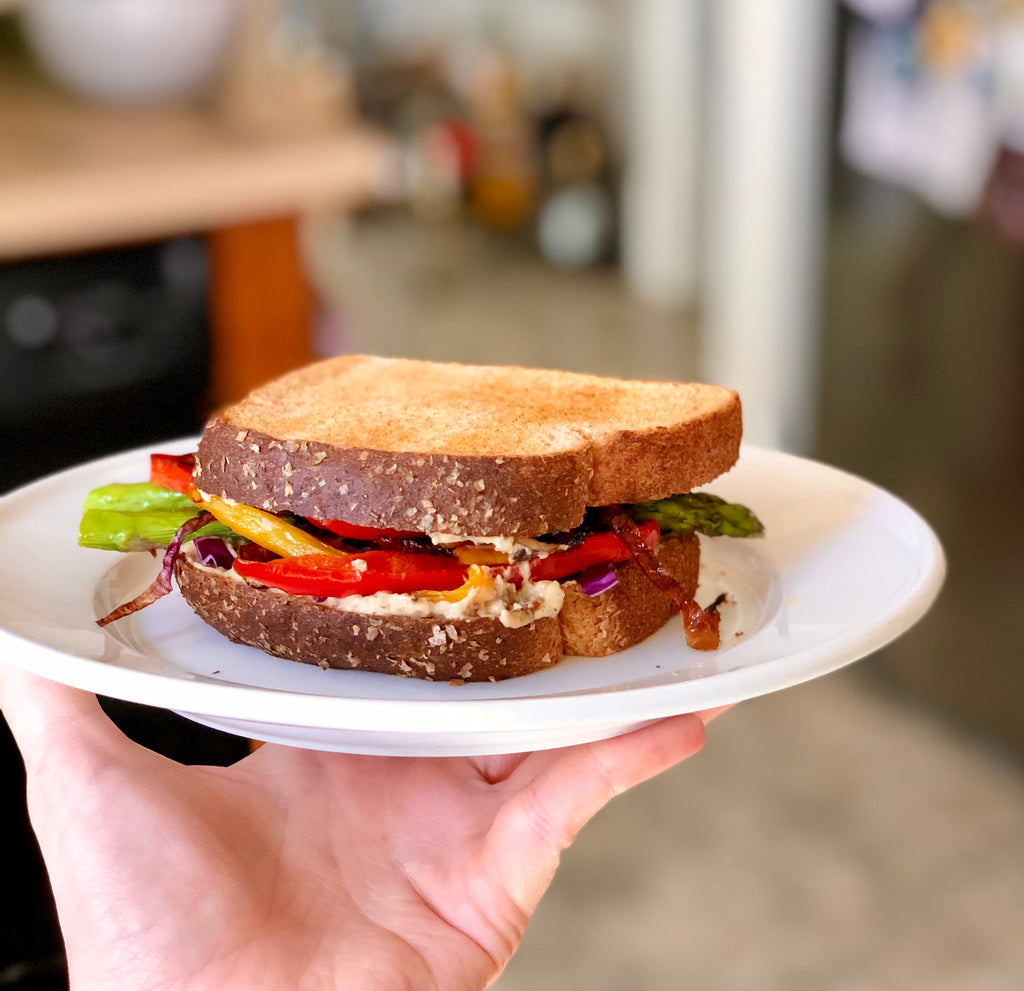 Just because I'm not a vegan anymore doesn't mean I don't enjoy some damn good meatless meals. This roasted vegetable sandwich was a staple in my animal-free days, and I still love it for a quick and delicious lunch that is healthy and can easily be prepped ahead of time.
Roasted peppers, onions, and asparagus are the backbone of this sandwich along with a crunchy red cabbage slaw and smooth roasted eggplant and honey spread (which I guess isn't technically vegan but worry not—there is an alternative!) 
The best part of this sandwich? All the parts can be used in other dishes! Add the roasted vegetables back to a pan with roasted zucchini, chili powder, oregano, and cumin for some vegan fajitas, use the slaw on hotdogs, and enjoy the eggplant spread with your favorite whole wheat crackers for a snack!
This recipe makes about 4-6 sandwiches, depending on how high you pile it. Also feel free to add or subtract veggies as you see fit!
Roasted Vegetable Sandwich 
Veggie Filling 
1 red bell pepper, thinly sliced
1 yellow bell pepper, thinly sliced
1 orange bell pepper, thinly sliced
1 poblano pepper, thinly sliced
3/4 red onion, thinly sliced 
1 bunch asparagus, ends cut off and sliced in half
salt/pepper
1 tsp paprika
1 tsp garlic powder 
1/2 tsp cayenne 
1. Preheat oven to 400º. Arrange peppers and onions on opposite sides of a foil lined (or greased) baking sheet. Drizzle with olive oil and toss with paprika, garlic powder, and cayenne. Roast for 15 minutes. 
2. Remove from oven. Toss each set of vegetables. Return to oven for 5 minutes. 
3. Check onions—they will cook faster than the peppers. If roasted down, remove from baking tray to a large bowl. Add asparagus to the baking sheet. Return the sheet with peppers and asparagus to the oven and roast for about 10 minutes until peppers are cooked down and asparagus is roasted but still retains some shape. 
4. Once vegetables are done add them to the bowl with the roasted onions. Toss the onions in salt and pepper to taste. 
To Reuse:
1. Add to a pan with roasted chickpeas, sliced portobello mushrooms, and roasted zucchini. Season with cumin, chili powder, oregano, cilantro, sliced garlic, and more salt/pepper to taste. Heat until everything is hot and cooked through. 
2. Enjoy with cheese, avocado, sour cream, black beans, and rice for vegetarian fajitas. 
Eggplant Honey Spread
7-8 indian eggplants, halved 
2 tbsp tahini 
1/2 lemon, squeezed 
2 tsp honey* 
1 tsp smoked paprika 
salt/pepper 
4 cloves roasted garlic 
1 tbsp olive oil 
1. Preheat oven to 425º. Line a baking tray with foil. Slice eggplants in half and lay on the tray cut side down. Drizzle with olive oil. 
2. Drizzle garlic cloves, still in their papery skins, with oil. Wrap in foil and place on the same tray as the eggplant. Roast for 50 minutes-1 hour. (Check garlic at 45 minutes. If well roasted, remove from oven.)
3. Allow eggplant to totally cool. 
4. Scoop out the now soft insides of the eggplant and add to a food processor with roasted garlic, tahini, paprika, oil, lemon juice, salt, and pepper. Process until mixed, but not totally smooth. 
5. Transfer to storage container. Drizzle in honey* and fold gently into the spread. Adjust salt, pepper, lemon to taste. 
*If you are a vegan who does not eat honey, replace with agave syrup. 
**If enjoying a dip, I like to add toasted pine nuts to the top of the spread. 
To Reuse:
1. Set out with raw carrots, celery, grape tomatoes, and your favorite whole wheat chips/pita for a snack or impressive party tray. 
Crunchy Purple Cabbage Slaw 
1/2 head purple cabbage, roughly chopped 
2 carrots, peeled into thin slices 
1 cucumber, sliced thin 
1 tbsp dijon mustard 
1-2 tbsp vegan mayo 
1 tsp ground mustard 
1 tsp paprika 
1 tbsp red wine vinegar 
1 tsp mirin vinegar 
3-4 garlic cloves, minced 
1 tsp granulated sugar 
salt/pepper
1. Roughly chop the cabbage. Add to a large mixing bowl. Repeat with cucumber. 
2. Using a vegetable peeler, strip carrots into the bowl with cabbage and cucumber. 
3. Mince garlic very finely. Add to bowl. 
3. Add mustard, vegan mayo (or regular mayo, it's your slaw), ground mustard, paprika, salt, pepper, vinegars, and sugar to the vegetables. 
4. Using your hands (It really is the best way. I promise. Wear gloves if you want, but it's better than a spoon.) mix everything together until well combined. 
5. Transfer your slaw to a sealable container. Refrigerate for a minimum of one hour, although the longer it sits, the better it is. Use within 2 weeks. 
*Feel free to adjust your seasonings/vinegar/mayo proportions. Depending on the size of your vegetables, you might need a little more or less of each. 
**For more of a kick, add 1 finely minced jalapeño or Serrano pepper. 
To Reuse:
1. Add to hot dogs and fish tacos for an extra crunch and serving of vegetables!
To assemble the sandwich:
1. Toast your favorite bread. I think a high quality sourdough or rye works best, but any sandwich bread or roll will still be great. (The sandwich in the photo is on Kroger Whole Wheat bread.) 
2. Smear a generous amount of eggplant spread on both sides of the bread. Stack with roasted vegetables and slaw to taste. 
3. Season with salt and pepper. Enjoy with sparkling water and raw celery and almond butter if you want to be a health bishh / enjoy with delicious bbq potato chips if the sandwich is being healthy enough.