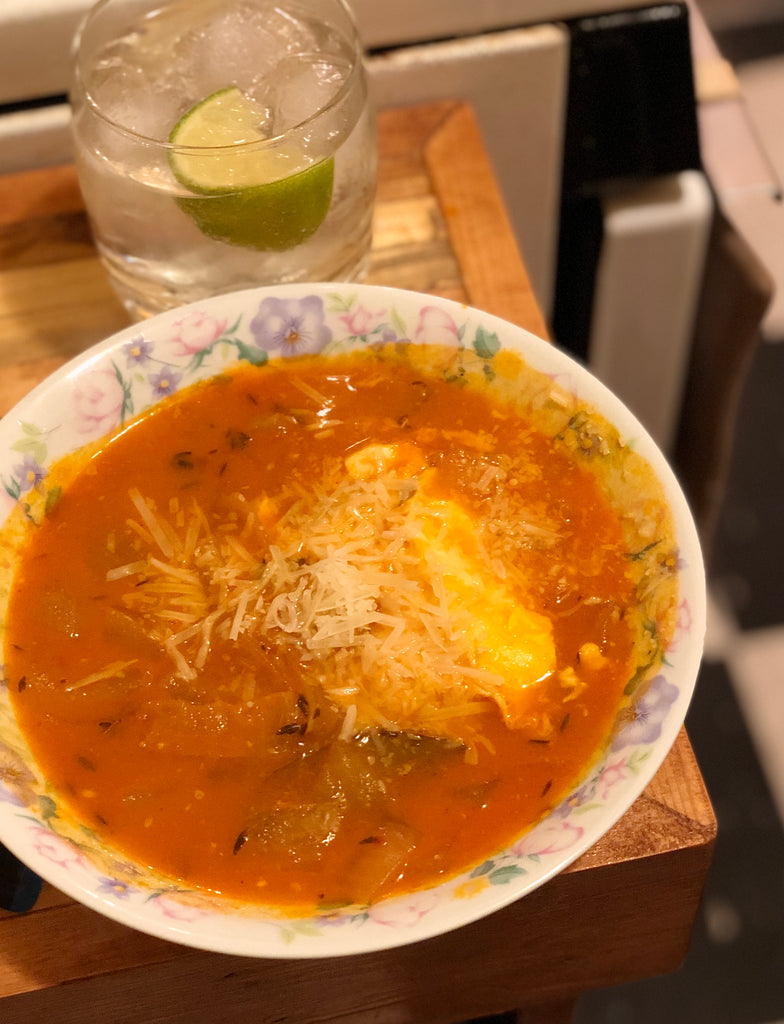 Adding an egg to any dish makes it better. (Grade A Scientific Fact™) This tomato soup isn't exactly like the rainy day soup you grew up eating. The tomatoes are roasted off with garlic and turned into a broth, instead of a chunky puree, and slivered onions and a cracked whole egg add texture to this traditionally smooth soup. 
I love this version of tomato soup on rainy days when I want the same comforting meal from childhood dressed up a little fancier. It's also an incredibly easy dish to prep in advance for a show-stopping first course at a dinner party or get-together! Make the soup ahead of time to refrigerate or freeze and cook with the egg when it's time to serve!
5-6 large roma tomatoes, halved
8-9 garlic cloves, still in skins
1 sweet onion, slivered 
4 cups vegetable or chicken stock 
1 bay leaf
4 basil leaves, minced
5 sprigs oregano, minced
3 sprigs thyme, minced 
2 Tbsp Olive Oil
1 Tbsp Garlic Powder
1/2 Tbsp Smoked Paprika 
1/2 Tbsp Onion Powder 
Salt/Pepper, to taste 
1 egg (per serving)
1 Tbsp Parmesan (per serving)
For the soup
1. Preheat oven to 450º (F). Line a baking tray with tinfoil. Slice tomatoes in half lengthways and move to tray with garlic cloves. Toss in 1 Tbsp of oil until well coated. Bake for 25 minutes until well roasted. 
2. Cut the onion into long slivers. Set aside. 
3. Once tomatoes have finished roasting, remove tray from the oven and allow to cool for about 5 minutes or until garlic is cooled enough to handle. 
4. Remove roasted garlic from the skins and add to a blender with the tomatoes and 1 Tbsp oil. Process on high for 1-2 minutes until completely smooth. 
5. In a large soup pot, strain the tomato and garlic mixture through a fine sieve to remove any pulp. Add the stock, herbs, garlic powder, onion powder, paprika, and slivered onions and bring the entire soup to a rolling boil then reduce to a simmer. 
6. Cover and simmer for 20 minutes, stirring occasionally. Season with salt and pepper to taste. 
To assemble with egg
1. Heat one serving of soup in a small saucepan over medium-high heat until simmering. 
2. Crack one whole egg into the middle of the soup and cover with a lid. Simmer for 3-4 minutes or until the egg white has turned from translucent to opaque. (Be careful with this step! You want the yolk to run into the soup when you crack the egg with your spoon, so be careful not to overcook the yolk.) 
3. Carefully spoon the soup and egg into a bowl. Top with parmesan and more cracked pepper if desired and enjoy! 
Pairings:
White Wine: Vermentino 
Red Wine: Grenache, Sangiovese
Cocktail: Gimlet